Monthly news roundup – June 2018
It's been a busy month for short-term rental news in Australia and around the world. Here's what you need to know.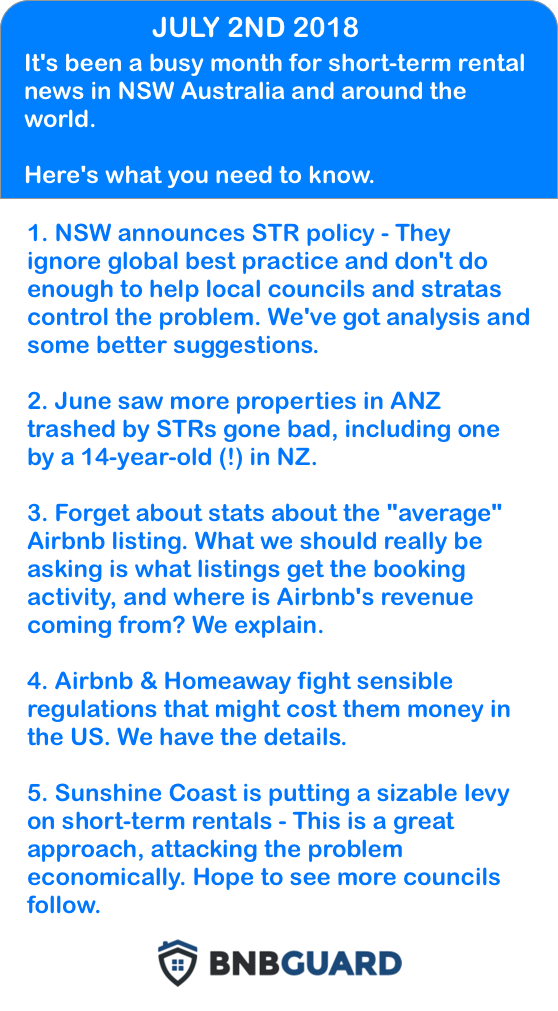 The details:
NSW announces STR policy
The policy will become law soon and is based on 5 pillars:
No cap to owner-occupier STRs, 180-day booking cap to investor STRs in Sydney

No ability for stratas to block owner-occupier STRs, and 75% vote required to block STRs in investor-only units

No limits to any STRs outside of Sydney, but local councils can adopt booking limits up to 180 days on investor property

A "two strikes" law to shut down party houses

A code of conduct for hosts (no details yet)
The laws ignore global best practice and don't do enough to help local councils and stratas control the problem. It's tough to strike a balance between community and tourist dollars, especially in a rapidly changing industry. But these laws are weak and what's worse, cripple local efforts to find better solutions.
Read more:
If you're a strata or local council with an STR problem, reach out to us. We're always happy to chat.